The DELPHI courses
Join  the DELPHI Online Course: To check out our Online Content you may sign up for the course here.
Download the flyer by clicking the image to learn more about the DELPHI courses you can use for the professional development in Heritage Interpretation and participatory planning.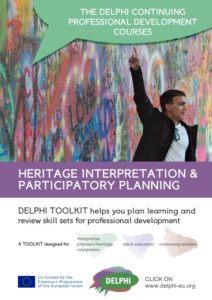 The DELPHI pilot course
The DELPHI Training follows a blended-learning approach.  The DELPHI Training Course for Heritage Interpreters and Adult Educators started with a preliminary online phase in January 2020. Then a five-day face-to-face course  was held  in Alden Biesen, Belgium in February 2020. More …
Projects of the course participants
In this way participants were prepared to carry out practice projects related to the course contents in their regional work environments. These projects were presented during the final conference of the project. See the DELPHI final conference documentation.
Additionally you can find all concepts for the project plans of the course participants here.